CuellarStone is a company born in 1958 in Macael Marble region, Almería, dedicated to the production of special projects in natural stone. Nowadays, CuellarStone counts on three business areas: Special Projects, Artisanal Products and Professional Services: www.cuellarstone.com.
The vast experience of our technitians and interior designers on designing and processing natural stone, has generated a concern and enthusiasm to transfer to the matter the intrinsic possibilities we know can be extracted from this material.
Fruit of the mind of our team or as the result of collaborations with several world renoumn designers, organic and intuitive shapes melt with the veins and grains of the stone, producing pieces that simply had to exist. Originals, elegants with a surprising design.
In the year of our 60 anniversary, we present you some of the most recent elements of the family of CuellarStone's Contemporary Furniture Line:
STEROS. Centre Table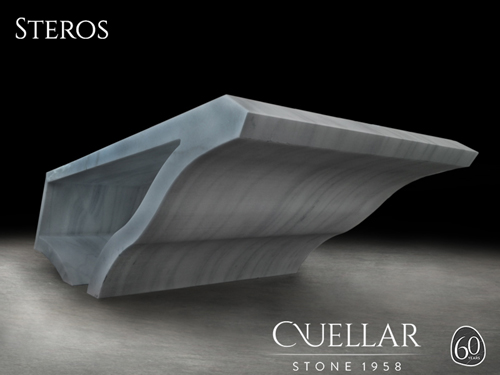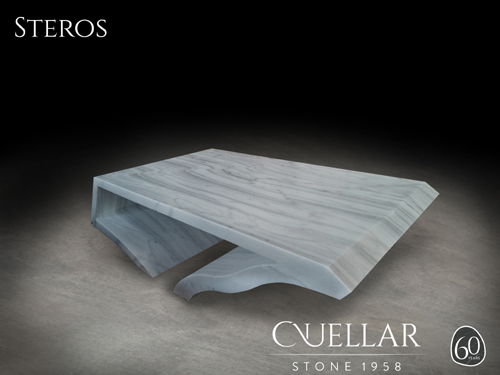 Against the industrialized representation of marble, strictly flat and angular, the curve line sculptural, free and vivid, listens the material and allows it to express its most ancestral virtues.
The result of the interpretation from the own vitality of a marble block, was this centre table model, in White Macael Marble, characterized by its fair background and smooth grey veins.
Functional and durable, is a timeless design piece, capable to become the centre of a room with an incomparable elegance: consequence of the union between natural stone strength and design sensitivity.
Side Tables. by Cesar Giraldo design
Within the new Contemporary Furniture Line of CuellarStone, we find these Coffee Tables, product of the collaboration we have been developing with Cesar Giraldo.
Cesar is an innovative designer based in Los Angeles. Amongst the several cooperations with worldwide designers we carry out, this one is, undoubtedly, one of the most dynamic and jovial, outcome of an excellent relationship.
Simply elegant and avant-garde, these Coffee Tables combine in a surprising way two contrasting materials – marble Calacatta Gold and sandstone Wengué.
MAX. Chair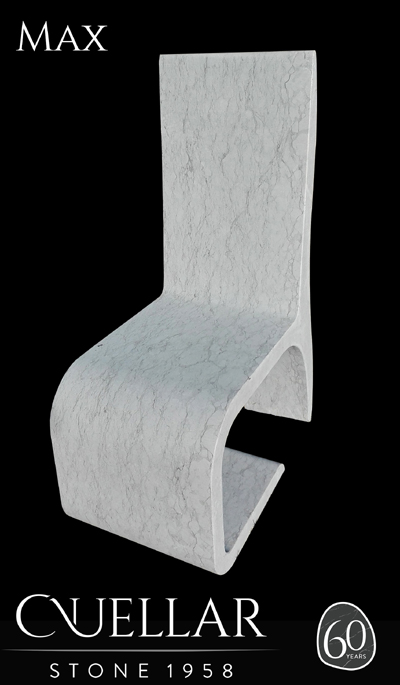 Looking for new different and edgy designs, we reinvent the chair. MAX chair, produced in Blue Cenia. Unique piece, both in its production as well as in structure: a single stroke evokes elegance and simplicity of pure shapes.