Russia, April 2018.- Due to the World Football Cup being held this year in the country in the month of June, the authorities decided to bring forward all trade shows and conventions so that there would be no problem of availability of hotel rooms. Result was that three different trade shows related to building materials and construction (Stone Fair, Mosbuild and Batimat) were held simultaneously during the dates 3 to 6 April in different venues in Moscow, creating some confusion among both exhibitors and visitors. Construction activity seems to have picked up in the other cities of the vast country and is no longer restricted to Moscow and Saint Petersburg.
Egypt, March 2018.- At least four mega factories for processing marble and granite, each with investments of dozens of million dollars are soon coming up in Egypt. All the factories will be state owned, and it is expected by end of the year 2018 all the four factories will be fully operational. Additional annual production capacity from the new units is expected to be around 15 to 20 million sqm.
India, 8 February 2018.-The WORLD NATURAL STONE ASSOCIATION (WONASA) in collaboration with the Indian Stone Association FIGSI organised a Panel Discussion on The New challenges facing the Natural Stone industry during the Stona fair inBangalore.. Participants were Mr Fernando Bolta, (Ceramiche Daytona, Italy), Mr Paulo Florio Giafarov (DGG, Brazil) and Mr Rogerio Moutinho (MGLW, UK). The participants debated on how the natural stone industry was being negatively affected by the new technological products in porcelain, but there was a market for both and discussed how there would ultimately be a co-existence between natural and artificial stone.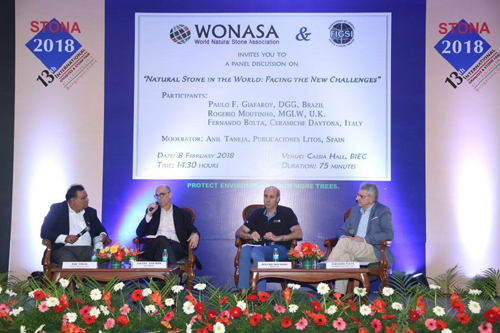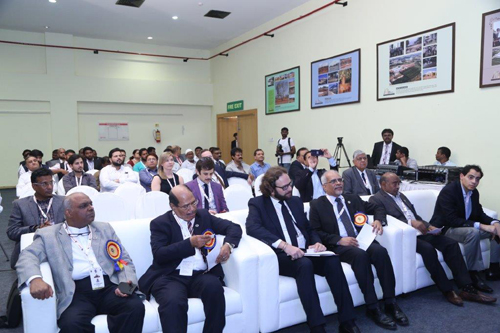 Taiwan, February 2018.- The earthquake in Taiwan on 6 February has had very negative consequences for the stone industry of the country. Most of the stone industry is located in Hualien close to the epicentre of the earthquake of magnitude 6.4, and some people estimate that as much as 30% of the slabs were destroyed due to the earthquake. Fortunately, since the earthquake took place in the evening hours when most workers had already left the factories, no human casualties took place.
Algeria January 2018.- Import restrictions in Algeria on marble and granite among other products as a result of austerity measures taken recently by the government and also to protect local producers have affected some international companies which sell in a significant way to this country.